What's The Difference Between Solar Panels?
Efficiency, Durability And Reliability
There's a big difference between solar panels and their efficiency, durability, and reliability. Many brands advertise their maximum power output, yet they do not include shade, dirty panels and broken cells into their estimated power. Each cell not only needs to generate its optimal power but must withstand the elements, no matter the conditions. Each part, not just the panels should have been tested for reliability to insure its longevity. However, unpredictable things happen, and knowing that all your entire system is covered under a warranty can create peace of mind. Learn more about how to compare solar panel brands.
Efficiency
What solar panels produce the greatest amount of power, in the least amount of space? When selecting panels, you want to find a brand that allows you to offset your electric bill and save more money overall. Even if you have limited roof area, the solar panel needs to generate enough power to meet your energy needs. SunPower's solar panels produce 55% more energy over 25 years, than our competitors panels produce in the same space. Our solar cells don't have any metal on the front. The metal to carry the electricity is on the back. That means that the front of the cell is unobstructed and can absorb the maximum amount of sunlight.
Durability
How long will your panels perform at a high level and keep giving you a return on your investment? Solar cells are installed on rooftops, and they're exposed to a lot of inhospitable conditions. Hot and cold temperature cycles swing over a roof and as that happens solar cells tend to expand and contract. Conventional solar cells will have front contacts for electricity to conduct which are highly susceptible to breakage due to expansion and contraction. The Maxeon cell stays intact when bent but the conventional cell shatters under the pressure. The fundamentally difference in the Maxeon cell technology is that there are no contacts on the front of the cell, plus the copper plate in the Maxeon cells stays cooler and has a much lower degradation rate. SunPower panels also produce 8 to 10% more than their competitors within the first year of install. This is because the copper foundation holds SunPower panels together during shipping and handling, compared to other equipment that arrives at the job site with cracks in the cells. SunPower cells last 40 years compared to conventional cells that have an average life of 25-years. These means the SunPower cell not only yielding more power over the same measure 25-year period but for much longer.
Reliability
What does my solar warranty even cover? Many conventional solar panel warranties only cover the panels since the other products are not manufactured by the same company. Leaving you to navigate multiple companies when a problem arises. When all the components of your system are made to work together, it means you get a better warranty. SunPower's warranty is the most comprehensive in the industry. They stand behind all the solar components on your roof, not just the panels. That includes a product and power warranty, plus all parts labor and shipping.
---
Why SunPower?
Equinox system is most modern technology which combines excellent aesthetics with the best efficiency.
With 60% less mounting hardware than most any other brand and patented glass, InvisiMount is the best-looking system around.
Easily add energy storage to provide backup power during an outage and to help reduce peak-time charges.
Built by SunPower and backed by the industry's only complete-system warranty.
There Are Many Reasons Why 7 of Top 10 U.S. Companies With Solar Chose SunPower…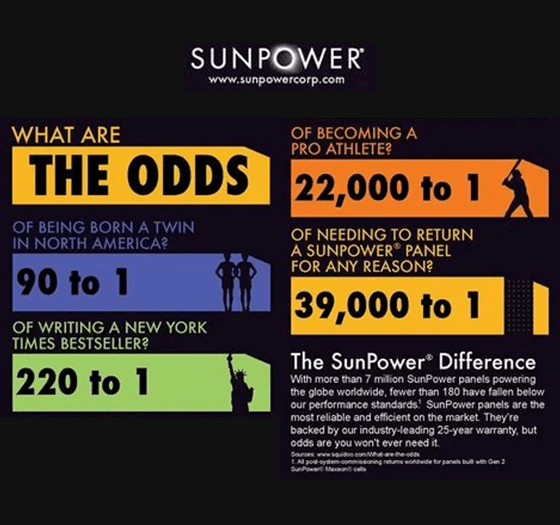 ---
Schedule a complimentary Solar Consultation with us, today. To accommodate your schedule, Solar Consultations can be scheduled for home visits or by video conferencing. We offer evenings and weekends appointments, as well. Contact our office by phone, text, or email.